Bestseller
More than 100,000 in print!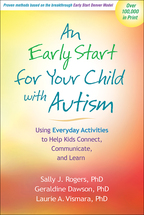 Create flyer
An Early Start for Your Child with Autism
Using Everyday Activities to Help Kids Connect, Communicate, and Learn
Hardcover
Paperback
e-book
print + e-book
Hardcover
May 20, 2012
ISBN 9781462503896
Price: $57.00
342 Pages
Size: 7" x 10"
order
Paperback
May 21, 2012
ISBN 9781609184704
Price: $16.95
342 Pages
Size: 7" x 10"
order
---
"Skills are taught in the context of everyday activities such as dressing, bathing, and mealtimes, which does not add any extra burden to a family's daily routine….The book is extremely well-organized, well-written, and easy to read which allows for a broad audience of parents and professionals alike….This book does an excellent job providing tangible strategies to add hopefulness in the reader. Throughout the book, emphasis is provided using italicized, bolded, and bulleted points. The book is organized with clear headings, step-by-step activities, activity checklists, examples/anecdotes about children and their families, and handouts (e.g., Refrigerator Lists, Activity Logs)….The ease of use is remarkable and makes this book a resource that caregivers can easily refer back to throughout a child's early development….
An Early Start for Your Child with Autism
is an ideal resource for parents of children first receiving a diagnosis of ASD, but also an excellent resource for parents of children already receiving services. The layout of the book is well thought out and each chapter clearly builds on the next. The book is extremely well-organized and can be used in an 'à la carte' manner for caregivers who may have already learned certain skills covered in earlier chapters. The book is priced extremely competitively….The authors do an excellent job integrating research and theory with practical skills-based strategies….Overall, this is a well-written and extremely relevant resource, which every caregiver of a young child with autism would benefit from regardless of the child's level of functioning or current skill set."

—Child and Family Behavior Therapy
"Easy to read, highly informative, and packed with useful strategies, this is a wonderful resource for parents."

—Fred R. Volkmar, MD, coauthor of A Practical Guide to Autism
"A remarkable achievement. Drs. Rogers, Dawson, and Vismarahave succeeded in translating the latest and best scientific evidence into practical suggestions for improving your child's social and communication skills. They write with clarity, insight, and even humor. This is a book you will prize highly."

—Peter Szatmari, MD, author of A Mind Apart: Understanding Children with Autism and Asperger Syndrome
"I was so overwhelmed when my child was diagnosed. This book is the road map I needed, written by experts I trust."

—Laura Shumaker, author, San Francisco Chronicle autism blog
"Parents are going to love this book! It translates the important work of the Early Start Denver Model into strategies that can be implemented at home. The book shows how parents everywhere can give their children with autism spectrum disorders the support they need to learn to communicate and play."

—Ilene Schwartz, PhD, Director, Haring Center for Applied Research and Training in Education, University of Washington, and coauthor of Building Blocks for Teaching Preschoolers with Special Needs