Bestseller
More than 100,000 in print!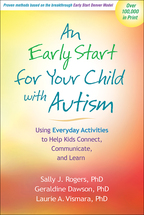 Create flyer
An Early Start for Your Child with Autism
Using Everyday Activities to Help Kids Connect, Communicate, and Learn
Hardcover
Paperback
e-book
print + e-book
Hardcover
May 20, 2012
ISBN 9781462503896
Price: $57.00
342 Pages
Size: 7" x 10"
order
Paperback
May 21, 2012
ISBN 9781609184704
Price: $16.95
342 Pages
Size: 7" x 10"
order
---
C
utting-edge research reveals that parents can play a huge role in helping toddlers and preschoolers with autism spectrum disorder (ASD) connect with others and live up to their potential. This encouraging guide from the developers of a groundbreaking early intervention program provides doable, practical strategies you can use every day. Nearly all young kids—including those with ASD—have an amazing capacity to learn. Drs. Sally Rogers, Geraldine Dawson, and Laurie Vismara make it surprisingly simple to turn daily routines like breakfast or bath time into fun and rewarding learning experiences that target crucial developmental skills. Vivid examples illustrate proven techniques for promoting play, language, and engagement. Get an early start—and give your child the tools to explore and enjoy the world.
Winner—American Journal of Nursing Book of the Year Award
Mental health professionals, see also the authors' related intervention manual,
Early Start Denver Model for Young Children with Autism
, as well as the
Early Start Denver Model Curriculum Checklist for Young Children with Autism
(sold in sets of 15).