Bestseller
More than 75,000 in print!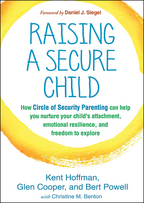 Create flyer
Raising a Secure Child
How Circle of Security Parenting Can Help You Nurture Your Child's Attachment, Emotional Resilience, and Freedom to Explore
Hardcover
Paperback
e-book
print + e-book
Hardcover
February 3, 2017
ISBN 9781462528134
Price: $55.00
280 Pages
Size: 6" x 9"
order
Paperback
February 6, 2017
ISBN 9781462527632
Price: $14.95
280 Pages
Size: 6" x 9"
order
Check out a special package offer including this title!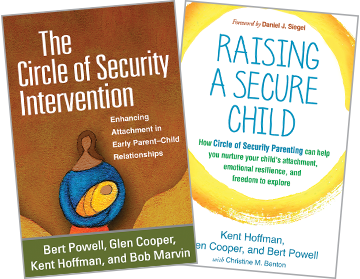 ---
A parent reflects on
Raising a Secure Child
(video)
.
---
Sign up for
emails
on upcoming titles on Families & Couples (with special discounts)!
---
The
practical tools
can be downloaded and printed in PDF format.
---
"Psychotherapists Hoffman, Cooper, and Powell…provide a clearly drawn map to the circle of security, their attachment theory-based program for attuning parents to child needs….This is a highly usable guide with the potential to enrich relationships of all kinds."

—Publishers Weekly (starred review)
"A book like this can be a crucial tool for parents….Hoffman, Cooper, and Powell distill the wisdom of attachment theory into an accessible and practical approach called the Circle of Security….Through their kind and compassionate writing style, the authors model the tone they ask parents to take with their children….
Raising a Secure Child
is one of the most important contributions to the parenting literature in years. It is a much-needed correction to the confusion of 'attachment parenting,' and fills a gap by focusing on the elusive, ephemeral flow of emotions between children and adults who care for them. The guidance is offered with an understated grace and poetry, as the authors soothe the parents' own attachment history to ease their relationship with their children."

—Greater Good
"Instead of perfect parenting, the authors stress the need for present parenting. They believe being there for our children, mistakes and all, builds trust and frees our children to be who they really are in front of us."

—Library Journal
"If you are looking for a practical, wise, science-based, and accessible guide to creating the kind of attachment your child needs to optimize development, you've come to the right place!…What a gift
Raising a Secure Child
is for us, for our children, and for the world….A masterpiece."

—from the Foreword by Daniel J. Siegel, MD, coauthor of The Whole-Brain Child
"I love this book, and know it will be good to reread during the difficult moments of parenting! The best part of
Raising a Secure Child
is that you don't have to do anything 'extra' to help your child flourish. Instead, the book reminded me of the essential factor hidden in plain sight—my relationship with my child. It made me feel hopeful and confident about my natural ability as a parent."

—Kari G., Spokane, Washington
"From the creators of the Circle of Security, which has changed parents' and children's lives around the globe, comes this remarkable guide. Down to earth, witty, and so, so smart about the complexities of parenting,
Raising a Secure Child
is a revelation. It provides a clear roadmap for all parents who want to give their children the very best beginnings possible. You will wish your parents had read this book, and if your children are grown, you will want to start all over again."

—Arietta Slade, PhD, Yale Child Study Center, Yale University School of Medicine
"This book is outstanding in every respect—beautifully written, scientifically sound, loaded with excellent examples, and full of deep wisdom. What these authors have learned and are able to teach us can make a huge contribution to the well-being of your children and family."

—Phillip R. Shaver, PhD, Distinguished Professor Emeritus of Psychology, University of California, Davis
"A 'must read' for parents of young children. The authors translate decades of psychological research into accessible and meaningful advice. Reading this book is an opportunity to learn about yourself—because, it turns out, knowing your own strengths and vulnerabilities is a vital key to parenting."

—Charles H. Zeanah, Jr., MD, Mary Peters Sellars-Polchow Chair in Psychiatry and Professor of Psychiatry and Pediatrics, Tulane University School of Medicine