The Life-Changing Bestseller
More than 1,300,000 in print!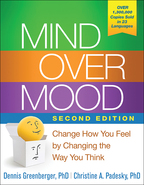 Create flyer
Mind Over Mood
Second Edition
Change How You Feel by Changing the Way You Think
Hardcover
Paperback
e-book
print + e-book
Hardcover
October 14, 2015
ISBN 9781462533695
Price: $67.00
341 Pages
Size: 8" x 10½"
order
Paperback
October 15, 2015
ISBN 9781462520428
Price: $26.95
341 Pages
Size: 8" x 10½"
order
Check out a special package offer including this title!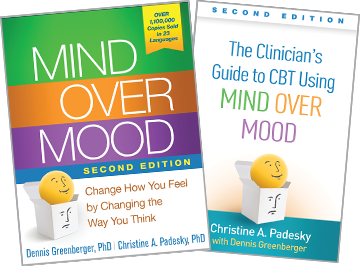 ---
Christine Padesky offers therapists and professors innovative cognitive behavioral strategies to use with clients and students on her
YouTube channel
. Plus, instructors and supervisors can view Dr. Padesky's free
webinar
on how to use
The Clinician's Guide to CBT Using Mind Over Mood, Second Edition
, as a textbook that can make teaching and learning CBT more enjoyable for you and your students.
---
Listen to Dr. Padesky's "Managing Your Moods" podcast (© LifeWorks US Inc.)
---
Read a Q&A
with featured author, Christine A. Padesky!
---