Christine A. Padesky

Christine A. Padesky, PhD, a clinical psychologist, is cofounder of the Center for Cognitive Therapy in Huntington Beach, California; codeveloper of Strengths-Based CBT; and coauthor of seven books, including the bestselling self-help resource Mind Over Mood, Second Edition. Dr. Padesky is a recipient of the Aaron T. Beck Award for significant and enduring contributions to the field of cognitive therapy from the Academy of Cognitive Therapy (now the Academy of Cognitive and Behavior Therapies; ACBT), the Distinguished Contribution to Psychology Award from the California Psychological Association, and the British Association for Behavioural and Cognitive Psychotherapies (BABCP) Award for Most Influential International CBT Therapist. She has been named a Distinguished Founding Fellow of the ACBT and an Honorary Fellow of the BABCP. The BABCP voted Mind Over Mood the most influential CBT book of all time. Dr. Padesky has taught workshops to more than 50,000 therapists internationally and is renowned for her ability to integrate theory, empiricism, creativity, and practical therapy skills. She consults worldwide and develops audio and video training materials for therapists. Her free video training series for therapists is posted at www.youtube.com/ChristinePadesky. Her websites are www.mindovermood.com (for the general public) and www.padesky.com (for mental health professionals).

---
Read a Q & A
with featured author, Christine A. Padesky!
---
---
All titles by Christine A. Padesky: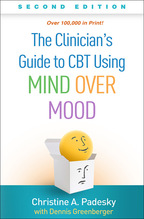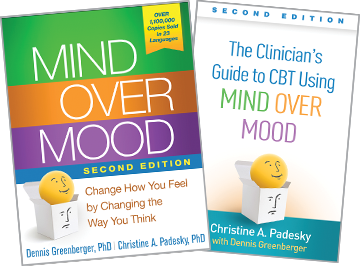 Order both items for $53.95, instead of $71.95 if bought separately!