The Classic Work
More than 45,000 in print!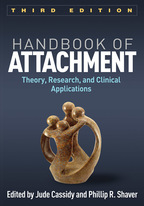 Create flyer
Handbook of Attachment
Third Edition
Theory, Research, and Clinical Applications
Hardcover
Paperback
e-book
print + e-book
Hardcover
July 19, 2016
ISBN 9781462525294
Price: $129.00
1068 Pages
Size: 7" x 10"
order
Paperback
March 19, 2018
ISBN 9781462536641
Price: $69.00
1068 Pages
Size: 7" x 10"
order
---
New to this edition:
Chapters on genetics and epigenetics, psychoneuroimmunology, and sexual mating.
Chapters on compassion, school readiness, and the caregiving system across the lifespan.
Chapter probing the relationbetween attachment and other developmental influences.
Nearly a decade's worth of theoretical and empirical advances.