The Classic Work
More than 45,000 in print!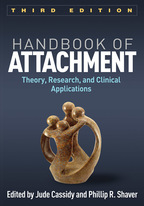 Create flyer
Handbook of Attachment
Third Edition
Theory, Research, and Clinical Applications
Hardcover
Paperback
e-book
print + e-book
Hardcover
July 19, 2016
ISBN 9781462525294
Price: $129.00
1068 Pages
Size: 7" x 10"
order
Paperback
March 19, 2018
ISBN 9781462536641
Price: $69.00
1068 Pages
Size: 7" x 10"
order
---
Jude Cassidy
, PhD, is Distinguished Scholar-Teacher and Professor of Psychology at the University of Maryland, College Park, and Director of the Maryland Child and Family Development Laboratory. Her research interests include socioemotional development from infancy through adolescence, with an emphasis on attachment and family relationships; social, cognitive, and regulatory mechanisms through which children's early family experiences come to influence later well-being and relationships; and early intervention designed to reduce the risk of insecure attachment and mental disorders. Her research has been funded by the National Institute of Mental Health, the National Institute of Child Health and Human Development, the National Institute on Drug Abuse, the Substance Abuse and Mental Health Services Administration, and the Zanvyl and Isabelle Krieger Fund. Dr. Cassidy serves as coeditor of the journal
Attachment and Human Development
and is on the editorial boards of
Journal of Clinical Child and Adolescent Psychology
and
Infant Mental Health Journal
. She is a Fellow of the Association for Psychological Science and the American Psychological Association (APA), and received the Boyd R. McCandless Young Scientist Award from APA Division 7 (Developmental Psychology).
Phillip R. Shaver
, PhD, is Distinguished Professor Emeritus of Psychology at the University of California, Davis. He has published several books, including
Handbook of Attachment, Third Edition
, and over 250 journal articles and book chapters. Dr. Shaver's research focuses on attachment, human motivation and emotion, close relationships, personality development, and the effects of meditation on behavior and brain. He is a fellow of both the American Psychological Association and the Association for Psychological Science, and has served as executive officer of the Society of Experimental Social Psychology (SESP) and as president of the International Association for Relationship Research (IARR). Dr. Shaver is a recipient of Distinguished Career Awards from the SESP, the IARR, and the Society for Personality and Social Psychology, and an honorary doctorate from the Faculty of Social Sciences at the University of Stockholm, Sweden. He is an elected member of the American Academy of Arts and Sciences.