Bestseller
More than 125,000 in print!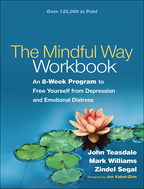 Create flyer
The Mindful Way Workbook
An 8-Week Program to Free Yourself from Depression and Emotional Distress
A Paperback Original
e-book
print + e-book
A Paperback Original
January 2, 2014
ISBN 9781462508143
Price: $24.95
228 Pages
Size: 8" x 10½"
order
Check out a special package offer including this title!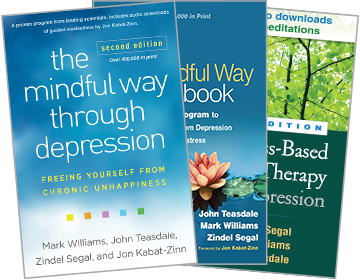 ---
Sign up for
emails
on upcoming titles on Mindfulness (with special discounts)!
---
"The authors are leading experts in developing the scientific theories and experiential skills of how mindfulness can help to disrupt the ruminative cycle that perpetuates depression….This book is written and arranged in such a way that the layman with no prior knowledge of cognitive theory of depression can easily understand why and how MBCT can be of benefit to them….This workbook is highly recommended to anyone who is interested in MBCT for self-improvement or self-help in coping with depression, as well as to mental health professionals who want to learn mindfulness skills for personal enhancement or for teaching their own patients. I have now incorporated this workbook as a companion resource into my own practice of cognitive-behavioral therapy. My daily practice of mindfulness skills has also strengthened my personal ability to develop moment-to-moment case conceptualizations for my patient's problems during each therapeutic encounter"

—International Journal of Social Psychiatry
"I consider MBCT to be an effective means of preventing and treating depression and enhancing emotional well-being. This workbook gives practical advice for applying the principles of MBCT in your life. I recommend it highly."

—Andrew Weil, MD, author of 8 Weeks to Optimum Health and Spontaneous Happiness
"Wisdom, illuminated and applied! We could ask for nothing more from three of the world's most gifted and caring clinicians, who provide us with a clear and practical guide to understanding and strengthening the mind. This workbook is a generous gift that can help you relieve depression and anxiety, improve your health, and enhance your way of being in the world."

—Daniel J. Siegel, MD, author of Mindsight
"Fantastic….[It] functions as a trusted friend, counselor, and guide."

—from the Foreword by Jon Kabat-Zinn, PhD
"What could be more fabulous than this? An evidence-based treatment for depression translated into a workbook that everyone can use. This is a treatment that has circled the globe for a reason—it works. Fortunately, the authors who translated the treatment into a workbook are the very people who developed the treatment in the first place; all three are expert clinicians and scientists. My advice: 'Try this.'"

—Marsha M. Linehan, PhD, ABPP, Professor and Director Emeritus, Behavioral Research and Therapy Clinics, University of Washington; developer of DBT
"Three of the world's leading authorities on psychotherapy and mindfulness have developed a workbook of great clarity and value. It outlines an easy-to-follow, step-by-step program for how to train our minds out of repetitive loops and find states of peace."

—Paul Gilbert, PhD, Centre for Compassion Research and Training, University of Derby, United Kingdom
"The strategies in this book have truly changed my life. I feel a thousand times better today than ever before. Like anyone else, I still get sad and anxious sometimes, but it happens much less frequently and I'm better equipped to deal with it. I definitely plan to continue practicing mindfulness for the long term."

—Alain K.