Mark Williams

Mark Williams, DPhil, is Emeritus Professor of Clinical Psychology at the University of Oxford, having been Wellcome Principal Research Fellow at Oxford from 2003 to 2012 and at Bangor University from 1991 to 2002. He collaborated with John Teasdale and Zindel Segal in developing mindfulness-based cognitive therapy (MBCT) to prevent relapse and recurrence in major depression; together, they coauthored Mindfulness-Based Cognitive Therapy for Depression, Second Edition (for mental health professionals), as well as the self-help guides The Mindful Way Workbook and (with Jon Kabat-Zinn) The Mindful Way through Depression. Dr. Williams is also coauthor of Mindfulness-Based Cognitive Therapy with People at Risk of Suicide (for mental health professionals). He is a Fellow of the British Psychological Society, the Academy of Medical Sciences and the British Academy. Now retired, he continues to live near Oxford, to teach mindfulness to teachers-in-training across the world, and to explore, with colleagues, how mindfulness might be used in evidence-based public policy.

---
All titles by Mark Williams: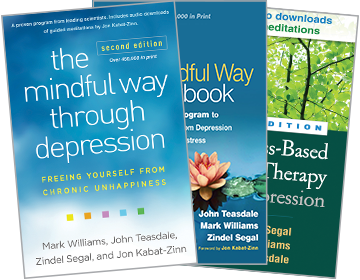 Order all 3 items for $71.95, instead of $95.90 if bought separately!