Bestseller
More than 100,000 in print!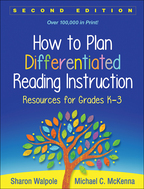 Create flyer
How to Plan Differentiated Reading Instruction
Second Edition
Resources for Grades K-3
Hardcover
Paperback
e-book
print + e-book
Hardcover
July 4, 2017
ISBN 9781462548989
Price: $50.00
284 Pages
Size: 8" x 10½"
order
Paperback
July 4, 2017
ISBN 9781462531516
Price: $33.00
284 Pages
Size: 8" x 10½"
order
---
New to this edition:
Differention 2.0: the approach has been fine-tuned based on field testing, new research findings, and current standards and response-to-intervention frameworks.
Many additional reproducible tools, such as coaching templates and the Informal Decoding Inventory.
Beyond lesson plans and materials, the second edition offers more guidance for designing instruction and grouping students, making it a one-stop resource.
Reproducible tools now available to download and print.