Bestseller
More than 200,000 in print!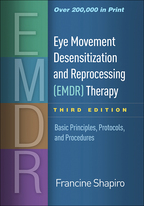 Create flyer
Eye Movement Desensitization and Reprocessing (EMDR) Therapy
Third Edition
Basic Principles, Protocols, and Procedures
Hardcover
e-book
print + e-book
Hardcover
December 29, 2017
ISBN 9781462532766
Price: $75.00
568 Pages
Size: 6⅛" x 9¼"
order
---
Read a Q&A
with featured author, Francine Shapiro!
---
Sign up for
emails
on upcoming titles on Trauma & PTSD (with special discounts)!
---
The
reproducible materials
can be downloaded and printed in PDF format.
---
T
he authoritative presentation of Eye Movement Desensitization and Reprocessing (EMDR) therapy, this groundbreaking book—now revised and expanded—has been translated into 10 languages. Originally developed for treatment of posttraumatic stress disorder (PTSD), this evidence-based approach is now also used to treat adults and children with complex trauma, anxiety disorders, depression, addictive behavior problems, and other clinical problems. EMDR originator Francine Shapiro reviews the therapy's theoretical and empirical underpinnings, details the eight phases of treatment, and provides training materials and resources. Vivid vignettes, transcripts, and
reproducible
forms are included. Purchasers get access to a webpage where they can download and print the reproducible materials in a convenient 8½" x 11" size.
New to This Edition
Over 15 years of important advances in therapy and research, including findings from clinical and neurophysiological studies.
New and revised protocols and procedures.
Discusses additional applications, including the treatment of complex trauma, addictions, pain, depression, and moral injury, as well as post-disaster response.
Appendices with session transcripts, clinical aids, and tools for assessing treatment fidelity and outcomes.
EMDR therapy is recognized as a best practice for the treatment of PTSD by the U.S. Departments of Veterans Affairs and Defense, the International Society for Traumatic Stress Studies, the World Health Organization, the U.K. National Institute for Health and Care Excellence (NICE), the Australian National Health and Medical Research Council, the Association of the Scientific Medical Societies in Germany, and other health care associations/institutes around the world.