Bestseller
More than 200,000 in print!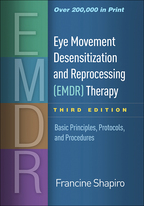 Create flyer
Eye Movement Desensitization and Reprocessing (EMDR) Therapy
Third Edition
Basic Principles, Protocols, and Procedures
Hardcover
e-book
print + e-book
Hardcover
December 29, 2017
ISBN 9781462532766
Price: $75.00
568 Pages
Size: 6⅛" x 9¼"
order
---
Read a Q&A
with featured author, Francine Shapiro!
---
Sign up for
emails
on upcoming titles on Trauma & PTSD (with special discounts)!
---
The
reproducible materials
can be downloaded and printed in PDF format.
---
Francine Shapiro
, PhD, until her death in 2019, was Senior Research Fellow Emeritus at the Mental Research Institute in Palo Alto, California; Executive Director of the EMDR Institute in Watsonville, California; and founder and President Emeritus of the Trauma Recovery/EMDR Humanitarian Assistance Programs, a nonprofit organization that coordinates disaster response and pro bono trainings worldwide. The originator and developer of EMDR therapy, Dr. Shapiro was a recipient of the International Sigmund Freud Award for distinguished contribution to psychotherapy, presented by the City of Vienna in conjunction with the World Council for Psychotherapy; the Award for Outstanding Contributions to Practice in Trauma Psychology from Division 56 of the American Psychological Association; and the Distinguished Scientific Achievement in Psychology Award from the California Psychological Association. Dr. Shapiro was designated as one of the "Cadre of Experts" of the American Psychological Association and the Canadian Psychological Association Joint Initiative on Ethnopolitical Warfare and served as advisor to a wide variety of trauma treatment and outreach organizations and journals. She was an invited speaker at psychology conferences worldwide and published more than 90 articles, chapters, and books about EMDR.