Bestselling Practitioner Guide and Text
More than 125,000 in print!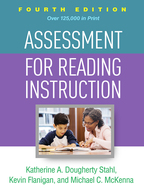 Create flyer
Assessment for Reading Instruction
Fourth Edition
Hardcover
Paperback
e-book
print + e-book
Hardcover
December 9, 2019
ISBN 9781462541584
Price: $68.00
345 Pages
Size: 8" x 10½"
order
Paperback
December 9, 2019
ISBN 9781462541577
Price: $45.00
345 Pages
Size: 8" x 10½"
order
---
New to this edition:
Expanded coverage of the middle grades (4–8), including a new chapter and case study, and explicit attention to this grade range throughout; new coauthor Kevin Flanigan adds expertise in this area.
New and expanded topics: computer-based testing methods, assessing academic language, and how to use reading inventories more accurately.
Additional reproducible tools: informal reading inventory summary form, comprehension retelling forms for narrative and informational text, computer-based comprehension test comparison worksheet, revised Informal Decoding Inventory, and more.