Bestseller
More than 70,000 in print!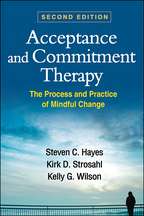 Create flyer
Acceptance and Commitment Therapy
Second Edition
The Process and Practice of Mindful Change
Hardcover
Paperback
e-book
print + e-book
Hardcover
September 28, 2011
ISBN 9781609189624
Price: $99.00
402 Pages
Size: 6" x 9"
order
Paperback
August 29, 2016
ISBN 9781462528943
Price: $49.00
402 Pages
Size: 6" x 9"
order
---
Sign up for
emails
on upcoming titles on Mindfulness (with special discounts)!
---
New to this edition:
Reflects tremendous advances in ACT clinical applications, theory building, and research.
Psychological flexibility is now the central organizing focus.
Expanded coverage of mindfulness, the therapeutic relationship, relational learning, and case formulation.
Restructured to be more clinician friendly and accessible; focuses on the moment-by-moment process of therapy.