Bestseller
More than 70,000 in print!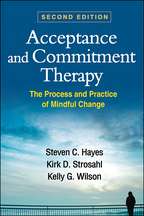 Create flyer
Acceptance and Commitment Therapy
Second Edition
The Process and Practice of Mindful Change
Hardcover
Paperback
e-book
print + e-book
Hardcover
September 28, 2011
ISBN 9781609189624
Price: $99.00
402 Pages
Size: 6" x 9"
order
Paperback
August 29, 2016
ISBN 9781462528943
Price: $49.00
402 Pages
Size: 6" x 9"
order
---
Sign up for
emails
on upcoming titles on Mindfulness (with special discounts)!
---
Steven C. Hayes
, PhD, is Foundation Professor of Psychology Emeritus at the University of Nevada and a codeveloper of ACT. His career has focused on the analysis of the nature of human language and cognition and its application to the understanding and alleviation of human suffering. He has served as president of multiple scientific and professional organizations, including the Association for Behavioral and Cognitive Therapies (ABCT) and the Association for Contextual Behavioral Science. His work has been recognized by the Award for Impact of Science on Application from the Society for the Advancement of
Behavior Analysis
and the Lifetime Achievement Award from the ABCT, among other awards. The author of 41 books and over 575 scientific articles, Dr. Hayes has focused on understanding human language and cognition and applying this understanding to the alleviation of human suffering and the promotion of human welfare. He is coauthor of
Acceptance and Commitment Therapy, Second Edition
.
Kirk D. Strosahl
, PhD, is a co-developer of ACT and a primary care psychologist at Central Washington Family Medicine, in Yakima, Washington, where he is promoting the use of ACT in general medical practice with predominantly low-income underinsured or uninsured clients.
Kelly G. Wilson
, PhD, is Professor of Psychology at the University of Mississippi. He is a codeveloper of ACT and has published numerous other books, articles, chapters, treatment manuals, and technical reports. Dr. Wilson trains and consults internationally on the design and implementation of behavioral treatments. His work includes the investigation of acceptance, mindfulness, and values-oriented strategies in the treatment of a variety of problems in living, as well as in the basic behavioral science underlying therapeutic change.