More than 40,000 in print!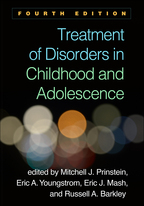 Create flyer
Treatment of Disorders in Childhood and Adolescence
Fourth Edition
Hardcover
Paperback
e-book
print + e-book
Hardcover
May 15, 2019
ISBN 9781462538980
Price: $125.00
928 Pages
Size: 7" x 10"
order
Paperback
May 19, 2021
ISBN 9781462547715
Price: $65.00
928 Pages
Size: 7" x 10"
order
Check out a special package offer including this title!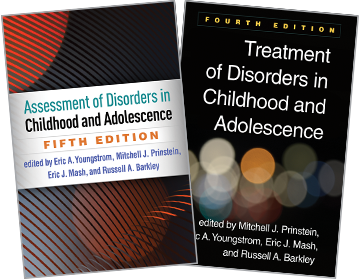 ---
Read a Q&A
with featured author, Russell A. Barkley!
---
Sign up for
emails
on upcoming titles by Russell A. Barkley (with special discounts)!
---
N

ow completely revised (over 90% new), this definitive practitioner reference and course text comprehensively reviews evidence-based treatments for psychological disorders in children and adolescents.

The significantly expanded fourth edition covers an increased number of disorders, as well as transdiagnostic issues and public health concerns. Psychosocial, pharmacological, and complementary therapies are identified and described in well-organized chapters that include rich clinical illustrations. Prominent experts address developmental considerations in treatment and offer guidance for tailoring interventions to each child and family's needs. Prior edition title:

Treatment of Childhood Disorders, Third Edition,

edited by Eric J. Mash and Russell A. Barkley.

New to This Edition
All chapters are new, reflecting over a decade of clinical and empirical developments.
Chapters on additional clinical issues: bipolar disorder, suicidal and nonsuicidal self-injury, obsessive–compulsive disorder, infant and toddler problems, posttraumatic stress disorder, coping and emotion regulation, bereavement, early-onset schizophrenia, personality disorders, childhood obesity, and sleep problems.
Chapters on case conceptualization and evidence-based therapist flexibility.
Illustrative case examples and transcripts added throughout.
Updated for DSM-5; every chapter also considers transdiagnostic and dimensional issues.
See also the editors'
Assessment of Disorders in Childhood and Adolescence, Fifth Edition
.