More than 40,000 in print!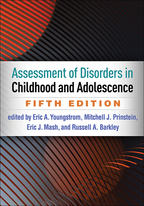 Create flyer
Assessment of Disorders in Childhood and Adolescence
Fifth Edition
Hardcover
Paperback
e-book
print + e-book
Hardcover
August 27, 2020
ISBN 9781462543632
Price: $119.00
730 Pages
Size: 7" x 10"
order
Paperback
April 11, 2022
ISBN 9781462550289
Price: $59.00
730 Pages
Size: 7" x 10"
order
Check out a special package offer including this title!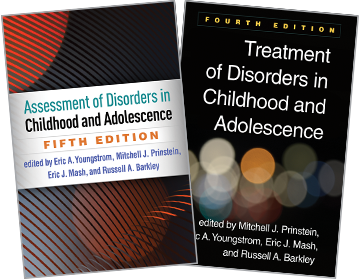 ---
Read a Q&A
with featured author, Russell A. Barkley!
---
Sign up for
emails
on upcoming titles by Russell A. Barkley (with special discounts)!
---
T

his leading course text and practitioner reference has been extensively revised with 90% new content, covering a broader range of child and adolescent problems in more concise chapters.

Prominent authorities provide a comprehensive framework for evidence-based assessment. Presented are methods and tools for developing effective diagnoses and case formulations, building strong treatment plans, monitoring progress, and documenting outcomes. Chapters are packed with practical guidance, handy tables, and sample instruments. Illustrative case material is included. Prior edition title:

Assessment of Childhood Disorders, Fourth Edition

, edited by Eric J. Mash and Russell A. Barkley.

New to This Edition
Many new authors and topics, reflecting over a decade of research and clinical advances.
Updated for DSM-5 and ICD-11.
Chapters on additional disorders: obsessive–compulsive disorder, persistent complex bereavement, and body dysmorphic disorder.
Chapters on transdiagnostic concerns: sleep problems, risky behaviors, and life stressors.
Four chapters on the "whys" and "hows" of using assessment in each phase of treatment.
Disorder-specific "starter kits"—lists of essential checklists, rating scales, interviews, and progress measures, including links to exemplary free measures online.
See also the editors'
Treatment of Disorders in Childhood and Adolescence, Fourth Edition
.