More than 70,000 in print!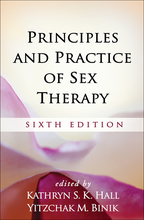 Create flyer
Principles and Practice of Sex Therapy
Sixth Edition
Hardcover
e-book
print + e-book
Hardcover
June 29, 2020
ISBN 9781462543397
Price: $85.00
536 Pages
Size: 6⅛" x 9¼"
order
---
Sign up for
emails
on upcoming titles on Families & Couples (with special discounts)!
---
"Gives the reader a view of the cutting edge of research and practice in sex therapy....Appropriate as a text for a graduate course in sex therapy or for anyone who wants an update on current practices in this field. In addition, a number of chapters have relevance for anyone conducting therapy."

—Journal of Contemporary Psychotherapy (on the fourth edition)
"The case examples are extremely helpful and convey in practice the theory and research so thoroughly elaborated in each chapter....This is a remarkable book that can add enormously to a clinician's knowledge."

—Bulletin of the Menninger Clinic (on the fourth edition)
"This highly readable book is of value to most practitioners working with adults, even if their caseload is general and not specific to sex therapy."

—Doody's Review Service (on the fourth edition)
"The gold-standard text for the assessment and treatment of sexual problems across the lifespan. Edited and written by the leading international experts in the field, this comprehensive book covers a wide range of perspectives and methodologies. The sixth edition covers a number of important new topics. This book is an invaluable guide for beginning and experienced sex therapists, for students, and for practitioners in the broader clinical and therapeutic community as well."

—Elizabeth Grill, PsyD, President Elect (2019–2020), Society for Sex Therapy and Research; Departments of Psychiatry, Reproductive Medicine, and Obstetrics and Gynecology, Weill Cornell Medical College
"This book is proof that human sexuality is an ever-evolving science and phenomenology. A changed world requires a changed practice. This is the reference book you want on your shelf."

—Esther Perel, MA, LMFT, private practice, New York City; podcast host, Where Should We Begin?
"With a rich 40-year history, this text has been significantly updated and revised in its timely sixth edition. The surprising amount of new empirical work is evidenced by succinct summaries of important findings as well as extensive bibliographies, making the book a treasure trove for researchers, graduate students, clinicians, and educators. As a professor of Marriage and Family Therapy for over 30 years, I have used this book as my primary sex therapy text. It blends research, medical advances, and clinical practice in a very accessible, integrative biopsychosocial paradigm. The clinical cases are relevant, realistic, and engaging—a great resource for learning. Many of the authors are new in this edition, and bring new international and intercultural insights. Both DSM-5 and ICD-11 classifications are included, and current controversies are explicated, rather than avoided! This book's multidisciplinary perspective encourages thoughtful communication and responsive best practices that can enhance connection and pleasure around the world."

—Delores Friesen, PhD, MFT, Professor Emerita of Pastoral Counseling, Fresno Pacific University Biblical Seminary