More than 70,000 in print!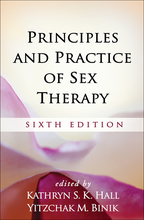 Create flyer
Principles and Practice of Sex Therapy
Sixth Edition
Hardcover
e-book
print + e-book
Hardcover
June 29, 2020
ISBN 9781462543397
Price: $85.00
536 Pages
Size: 6⅛" x 9¼"
order
---
Sign up for
emails
on upcoming titles on Families & Couples (with special discounts)!
---
Kathryn S. K. Hall
, PhD, is a clinical psychologist in private practice in Princeton, New Jersey. She is a past president of the Society for Sex Therapy and Research and is the book review editor for the
Journal of Sex and Marital Therapy
. Dr. Hall is a member of the Special Classification Review Board appointed by the Governor to oversee the treatment of incarcerated sex offenders in the state of New Jersey. She teaches and conducts trainings internationally on the practice of sex therapy. Her research interests and publications address the need to adapt sex therapy for a culturally diverse population.
Yitzchak M. Binik
, PhD ("Irv"), is Professor in the Department of Psychology at McGill University and Director Emeritus of the Sex and Couple Therapy Service at McGill University Health Center in Montreal, Quebec, Canada. Dr. Binik is a Fellow of the Canadian Psychological Association and was a member of the DSM-5 workgroup on sexual and gender identity disorders. He has published approximately 150 peer-reviewed articles in the areas of sexuality and health psychology. Dr. Binik is a recipient of the Distinguished Contribution to Professional Psychology Award from the Canadian Psychological Association and of the Masters and Johnson Award for Lifetime Achievement and the Mentorship Award from the Society for Sex Therapy and Research.