Bestseller
More than 60,000 in print!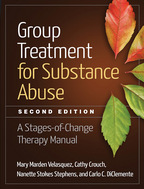 Create flyer
Group Treatment for Substance Abuse
Second Edition
A Stages-of-Change Therapy Manual
A Paperback Original
e-book
print + e-book
A Paperback Original
October 22, 2015
ISBN 9781462523405
Price: $45.00
308 Pages
Size: 8" x 10½"
order
Check out a special package offer including this title!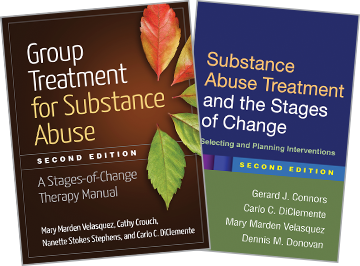 ---
Sign up for
emails
on upcoming titles on Addictions (with special discounts)!
---
The
reproducible materials
can be downloaded and printed in PDF format.
---
Mary Marden Velasquez
, PhD, is the Director of the Health Behavior Research and Training (HBRT) Institute at the School of Social Work, University of Texas at Austin. For more than 20 years, Dr. Velasquez has developed and studied behavioral interventions in the areas of group therapy, integrated primary care, screening and brief interventions, fetal alcohol spectrum disorder, alcohol and other drug abuse, prenatal health, sexually transmitted disease and HIV prevention, and smoking cessation. With particular expertise in the use of evidence-based brief interventions in health care, substance abuse treatment, and criminal justice settings, she is the author of numerous publications on motivational interventions in high-risk settings. She is a member of the Motivational Interviewing Network of Trainers (MINT).
Cathy Crouch
, LCSW, is Executive Vice-President of SEARCH Homeless Services, a large multi-service organization in Houston, Texas, which works with persons who have substance use problems and other issues. She has 27 years of management experience in nonprofit, corporate, and academic settings, and a strong commitment to using evidence-based practices and conducting research and evaluation. Over her career she has served as coprincipal investigator or consultant on a number of large federally funded research grants, including several clinical trials. Ms. Crouch is a licensed clinical social worker, a state board-approved clinical supervisor, and a member of MINT.
Nanette Stokes Stephens
, PhD, is Director of Training and Research Scientist at the HBRT Institute at the University of Texas at Austin. Dr. Stephens has more than 20 years of experience working with the transtheoretical model and utilizing motivational interviewing as a trainer, clinician, consultant, coach, and supervisor, and she has published peer-reviewed journal articles and book chapters. She is a member of MINT and has worked in a wide range of settings and agencies, including those that provide substance abuse services for veterans, homeless people, military personnel, juvenile probationers, college students, and women at risk for alcohol- and tobacco-exposed pregnancies.
Carlo C. DiClemente
, PhD, ABPP, is Professor Emeritus of Psychology at the University of Maryland, Baltimore County (UMBC), and Director of the MDQuit tobacco resource center, the Center for Community Collaboration, and the Home Visitor Training Certificate Program at UMBC. He is codeveloper of the transtheoretical model of behavior change and author of numerous scientific publications on motivation and behavior change with a variety of health and addictive behaviors. His books include
Addiction and Change, Second Edition
;
Substance Abuse Treatment and the Stages of Change, Second Edition
;
Group Treatment for Substance Abuse, Second Edition
; and the self-help resource
Changing for Good.
Dr. DiClemente is a recipient of awards including the Lifetime Achievement Award from the Addictive Behaviors Special Interest Group of the Association for Behavioral and Cognitive Therapies, the John P. McGovern Award from the American Society of Addiction Medicine, the Innovators Combating Substance Abuse award from the Robert Wood Johnson Foundation, and a Presidential Citation from the American Psychological Association.