The Classic Text and Clinical Guide
More than 200,000 in print!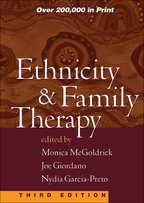 Create flyer
Ethnicity and Family Therapy
Third Edition
Hardcover
e-book
print + e-book
Hardcover
August 18, 2005
ISBN 9781593850203
Price: $125.00
796 Pages
Size: 7" x 10"
order
---
Sign up for
emails
on upcoming titles on Families & Couples (with special discounts)!
---
Monica McGoldrick
, LCSW, PhD (h.c.), Director of the Multicultural Family Institute in Highland Park, New Jersey, is also Associate Professor of Clinical Psychiatry at the University of Medicine and Dentistry of New Jersey–Robert Wood Johnson Medical School. She was Visiting Professor at Fordham University School of Social Service for 12 years. Ms. McGoldrick received her MSW in 1969 from Smith College School for Social Work, which later granted her one of the few honorary doctorates awarded by the school in its 60-year history. Other awards include the American Family Therapy Academy's award for Distinguished Contribution to Family Therapy Theory and Practice. An internationally known author, she speaks widely on culture, class, gender, the family life cycle, and other topics.
Joe Giordano
, MSW, is a family therapist in private practice in Bronxville, New York. He was formerly Director of the American Jewish Committee's Center on Ethnicity, Behavior, and Communications, where he conducted pioneering studies on the psychological nature of ethnic identity and group behavior. The author of widely published articles on ethnicity, family, and the media, he served as host of
Proud to Be Me
, a PBS television program, and as producer of the audio series
Growing Up in America
.
Nydia Garcia Preto
, LCSW, is cofounder and Clinical Director of the Multicultural Family Institute. She has served as Visiting Professor at the Rutgers Graduate School of Social Work and as Director of the Adolescent Day Hospital at the University of Medicine and Dentistry of New Jersey. A noted family therapist, author, teacher, and lecturer, Ms. Garcia Preto has published and presented widely on Puerto Rican and Latino families, Latinas, ethnic intermarriage, and families with adolescents. She is a highly respected trainer in the areas of cultural competence and organizational team building.