Barkley Functional Impairment Scale (BFIS for Adults)
A Paperback Original
May 11, 2011
ISBN 9781609182199
Price: $195.00
118 Pages
Size: 8" x 10½"
Convenient Wire Binding
order
Check out a special package offer including this title!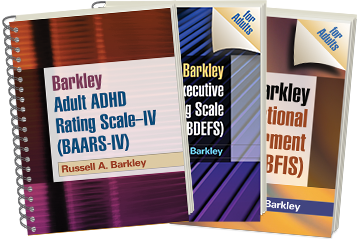 ---
Read a Q&A
with featured author, Russell A. Barkley!
---
Sign up for
emails
on upcoming titles by Russell A. Barkley (with special discounts)!
---
The BFIS is based on more than 16 years of research by the developer using prototypes of the The large normative sample (N>1,200) is representative of the U.S. population in terms of region, socioeconomic status, education, ethnicity/race, and gender, based on the 2000 US Census. Scoring sheets present norms for three age groups of adults (18–39, 40–59, and 60–89 years Factor analysis of the scale reveals a single factor reflecting impairment on which all 15 of the domain ratings load
Reliability
Reliability of the scores is quite satisfactory as evidenced by high internal consistency (Cronbach's alpha of .97 for long form, .92 for the Quick Screen); good interobserver agreement (.67 to .70 across scales); and high test–retest reliability over a 2–3 week interval (.72 for the total impairment score and .71 for the Quick Screen).
Validity
Validity of the scale scores was evident in numerous correlations of the scale scores with measures of ADHD symptoms, depression, anxiety, and general psychopathology; and in correlations, regression analyses, and group comparisons concerning disorder discrimination and concurrent with various measures of functional impairment in major life activities (associated risks in executive functioning, educational history, occupational functioning, social relationships, marriage, driving, financial management, crime and drug use, parenting stress, and offspring psychopathology, among other domains).
More extensive technical information is provided in the manual.