Bestseller
More than 95,000 in print!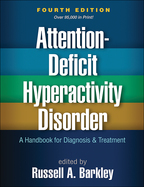 Create flyer
Attention-Deficit Hyperactivity Disorder
Fourth Edition
A Handbook for Diagnosis and Treatment
Hardcover
Paperback
e-book
print + e-book
Hardcover
October 17, 2014
ISBN 9781462517725
Price: $125.00
898 Pages
Size: 7⅜" x 9¼"
order
Paperback
October 23, 2018
ISBN 9781462538874
Price: $65.00
898 Pages
Size: 7⅜" x 9¼"
order
---
Read a Q&A
with featured author, Russell A. Barkley!
---
Sign up for
emails
on upcoming titles by Russell A. Barkley (with special discounts)!
---
New to this edition:
Reflects significant advances in research and clinical practice.
Expanded with many new authors and new topics.
Chapters on cutting-edge interventions: social skills training, dietary management, executive function training, driving risk interventions, complementary/alternative medicine, and therapies for adults.
Chapters on the nature of the disorder: neuropsychological aspects, emotional dysregulation, peer relationships, child- and adult-specific domains of impairment, sluggish cognitive tempo, and more.