The Circle of Security Intervention
Enhancing Attachment in Early Parent-Child Relationships
Hardcover
Paperback
e-book
print + e-book
Hardcover
September 20, 2013
ISBN 9781593853143
Price: $89.00
396 Pages
Size: 6" x 9"
order
Paperback
October 20, 2016
ISBN 9781462527830
Price: $39.00
396 Pages
Size: 6" x 9"
order
Check out a special package offer including this title!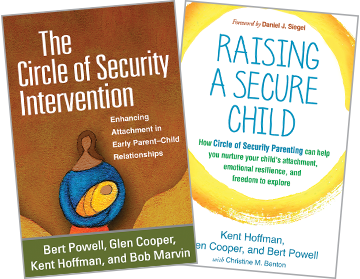 ---
| | |
| --- | --- |
| Preview a related parent resource on YouTube. | |
---
The
reproducible materials
can be downloaded and printed in PDF format.
---
P
resenting both a theoretical foundation and proven strategies for helping caregivers become more attuned and responsive to their young children's emotional needs (ages 0-5), this is the first comprehensive presentation of the Circle of Security (COS) intervention. The book lucidly explains the conceptual underpinnings of COS and demonstrates the innovative attachment-based assessment and intervention strategies in rich clinical detail, including three chapter-length case examples.
Reproducible
forms and handouts can be downloaded and printed in a convenient 8½" x 11" size. COS is an effective research-based program that has been implemented throughout the world with children and parents experiencing attachment difficulties.
The authors are corecipients of the 2013 Bowlby-Ainsworth Award, presented by the New York Attachment Consortium, for developing and implementing COS.
See also the authors' related parent guide:
Raising a Secure Child: How Circle of Security Parenting Can Help You Nurture Your Child's Attachment, Emotional Resilience, and Freedom to Explore
.