More than 100,000 in print!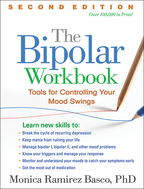 Create flyer
The Bipolar Workbook
Second Edition
Tools for Controlling Your Mood Swings
Hardcover
Paperback
e-book
print + e-book
Hardcover
May 6, 2015
ISBN 9781462533688
Price: $64.00
237 Pages
Size: 8" x 10½"
order
Paperback
May 7, 2015
ISBN 9781462520237
Price: $23.95
237 Pages
Size: 8" x 10½"
order
---
"Basco successfully guides patients through the course of the various stages of their illness at an easy-to-understand level. The workbook continues to give patients the awareness, understanding, and knowledge to take control and ownership of their illness. It also will serve as an excellent resource for clinicians, families, and friends….Every patient who has been diagnosed with bipolar disorder will find this a most beneficial resource. Notably, clinicians will enjoy sharing the exercises and tools with their patients as well. The author is a well-regarded member of the mental health field….This is a well-written and easy-to-read book that provides a solid foundation for patients to take control of their illness. The book promotes stability, medication compliance, managing emotions, and a proactive stance to help retain remission….It is a must-read for every person with bipolar disorder. ****!"

—Doody's Review Service
"Extremely useful to patients and professionals....This is an excellent example of putting helpful, evidence-based tools and information in the hands of people...who are experiencing a baffling disorder."

—PyscCRITIQUES (on the first edition)
"A practical, bottom line tool....The structure and focus that counselors struggle to impart to persons with bipolar disorder is effectively presented in this client-friendly workbook....The best part, in my view as a therapist, is the overall tone of the book, which is positive, encouraging, and empowering."

—The Masters' Advocate (on the first edition)
"This workbook successfully guides patients through the course of their illness at an easy-to-understand level and is specific to various stages of the illness. It will help patients gain awareness, understanding, knowledge, and ownership of their illness....This is, undoubtedly, one of the best workbooks on bipolar disorder in a long time. It is thorough, realistic, and should be given to all bipolar patients as part of their treatment plan. Highly recommended! 5 stars!"

—Doody's Review Service (on the first edition)
"For those on the bipolar spectrum—as well as loved ones who want to understand and help—this book is empathic, respectful, empowering, and accessible. Dr. Basco's deep understanding of the illness is evident. The steps in this book can help you strengthen your commitment to treatment, practice essential coping skills, and achieve greater stability."

—Cory F. Newman, PhD, ABPP, Center for Cognitive Therapy, Perelman School of Medicine, University of Pennsylvania
"This workbook provides essential strategies for coping with mood swings and intense emotions. Dr. Basco explains step by step how to manage the mix of depression and mania symptoms that typically goes along with bipolar disorder. A fantastic book and a 'must read.'"

—Thilo Deckersbach, PhD, Department of Psychiatry, Massachusetts General Hospital and Harvard Medical School
"Having suffered with bipolar disorder for years, I am grateful for Dr. Basco's well-organized, easy-to-understand guidance on how to live with this illness. The book contains numerous useful exercises that help you organize your thoughts in a logical way. It helps you understand your symptoms and moods and teaches realistic coping strategies so you can get your life back."

—Erin B.
"Dr. Basco once again hits it out of the park with this clear and concise workbook. This book can have a profound effect on improving the quality of life of anyone with bipolar illness."

—Daniel J. Taylor, PhD, Department of Psychology, University of North Texas
"A great book has gotten even better. The
Workbook
is an invaluable aidto managing bipolar disorder and achieving sustained wellness. I highly recommend this lucidly written book to people with bipolar illness and their families and friends."

—Madhukar H. Trivedi, MD, Department of Psychiatry, University of Texas Southwestern Medical Center