Bestseller
More than 90,000 in print!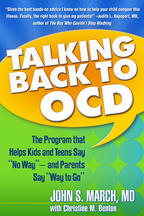 Create flyer
Talking Back to OCD
The Program That Helps Kids and Teens Say "No Way" — and Parents Say "Way to Go"
Paperback
e-book
print + e-book
Paperback
December 28, 2006
ISBN 9781593853556
Price: $16.95
276 Pages
Size: 7" x 10"
order
---
"Readable....encouraging....Worksheets, graphs, and quotes are scattered throughout; an appendix covers how to find a therapist, and additional resources are listed. There are other books on OCD for parents...but this is the only title aimed at both the sufferer and the parents; its emphasis on OCD as an illness motivates the child and parents to isolate OCD from the individual. Highly recommended. (starred review)"

—Library Journal
"Gives the best hands-on advice I know on how to help your child conquer this illness. Finally, the right book to give my patients!"

—Judith L. Rapoport, MD, author of The Boy Who Couldn't Stop Washing
"An excellent example of how research findings and first-rate clinical applications can be conveyed in an extremely reader-friendly fashion. The book, which provides sage guidance for both parents and youth, is highly informed and well written. Dr. March has succeeded in providing a valuable resource and clinical tool."

—Philip C. Kendall, PhD, Department of Psychology, Temple University
"From an internationally recognized expert on childhood OCD, this book is readable, doable, and based on the most up-to-date treatment research. I highly recommend it to parents and children!"

—Henrietta L. Leonard, MD, coauthor of Is It "Just a Phase"?
"Dr. March is a world expert on helping young people recover from OCD. In this much-needed book, he shares his wealth of knowledge and experience with parents and children. Full of practical tips and examples for families, the book helps the child take charge while showing parents how to support the recovery process. Dr. March tackles the bewilderment and isolation felt by so many families, highlighting the fact that OCD is nobody's fault and emphasizing that recovery is possible. I am looking forward to using this accessible book with the families I treat."

—Isobel Heyman, MBBS, PhD, MRCPsych, Maudsley Hospital, United Kingdom
"There's good news about recovery from childhood OCD, and it's called
Talking Back to OCD
. Dr. March explains with clarity and compassion what parents deserve to hear: They can make a difference in their children's lives. A highly respected, innovative clinical researcher, he describes each component of recovery in ways that both parents and children will understand and appreciate."

—R. Reid Wilson, PhD, author of Don't Panic and coauthor of Stop Obsessing!
"I highly recommend this book for parents and their children with mild to moderate OCD. Dr. Marchprovides detailed steps that can empower a young person to battle obsessive-compulsive disorder. The strong personal vignettes will help parents finally begin to understand the obsessions and compulsions that drive their child or teen to perform exhausting rituals."

—Joy Kant, mother of a son with OCD and former president, International OCD Foundation