Bestseller
More than 55,000 in print!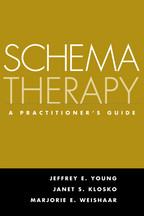 Create flyer
Schema Therapy
A Practitioner's Guide
Hardcover
Paperback
e-book
print + e-book
Hardcover
March 28, 2003
ISBN 9781572308381
Price: $115.00
436 Pages
Size: 6⅛" x 9¼"
order
Paperback
November 3, 2006
ISBN 9781593853723
Price: $55.00
436 Pages
Size: 6⅛" x 9¼"
order
---
Jeffrey E. Young
, PhD, is on the faculty in the Department of Psychiatry at Columbia University. He is the Founder and Director of the Cognitive Therapy Centers of New York and Connecticut, and the Schema Therapy Institute in New York City.
Janet S. Klosko
, PhD, Codirector of the Cognitive Therapy Center of Long Island, in Great Neck, New York, is senior psychologist at the Schema Therapy Institute and at Woodstock Women's Health in Woodstock, New York.
Marjorie E. Weishaar
, PhD, is Clinical Professor of Psychiatry and Human Behavior at Brown University Medical School, where she teaches cognitive therapy to psychiatry residents and to psychology interns and postdoctoral fellows. She also maintains a private practice in Providence, Rhode Island.