Early Start Denver Model for Young Children with Autism
Promoting Language, Learning, and Engagement
Hardcover
Paperback
e-book
print + e-book
Hardcover
December 8, 2009
ISBN 9781606236321
Price: $98.00
297 Pages
Size: 7" x 10"
order
Paperback
December 9, 2009
ISBN 9781606236314
Price: $65.00
297 Pages
Size: 7" x 10"
order
Check out a special package offer including this title!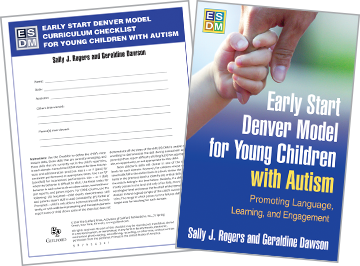 ---
Sally J. Rogers
, PhD, is Professor of Psychiatry at the MIND Institute, University of California, Davis. A developmental psychologist, she is involved at the international level in major clinical and research activities on autism, including one of the 10 Autism Centers of Excellence network projects funded by the National Institutes of Health/ National Institute of Child Health and Human Development, involving a multisite, randomized, controlled trial of an infant–toddler treatment for autism. She is also the director of an interdisciplinary postdoctoral training grant for autism researchers. Dr. Rogers is on the executive board of the International Society for Autism Research, is an editor of the journal
Autism Research
, and is a member of the DSM-V workgroup on autism, pervasive developmental disorder, and other developmental disorders. She has spent her entire career studying cognitive and social-communicative development and intervention in young children with disabilities and has published widely on clinical and developmental aspects of autism, with a particular interest in imitation problems. As a clinician, she provides evaluation, treatment, and consultation to children and adults with autism and their families.
Geraldine Dawson
, PhD, is Professor of Psychiatry and Behavioral Sciences in the School of Medicine at Duke University and founding Director of the Duke Center for Autism and Brain Development. A clinical psychologist and award-winning researcher, Dr. Dawson has published more than 200 articles and chapters and 9 books on early detection and treatment of autism and brain development. With Sally J. Rogers, she developed the Early Start Denver Model, the first empirically validated comprehensive intervention for toddlers with autism. She served as the first Chief Science Officer for Autism Speaks, the largest autism science and advocacy organization. Before joining the Duke faculty, Dr. Dawson served as Research Professor of Psychiatry at the University of North Carolina, Chapel Hill, and, prior to that, as Professor of Psychology at the University of Washington and Founding Director of the University of Washington Autism Center. A Fellow of the American Psychological Society and the American Psychological Association, Dr. Dawson is a recipient of the Lifetime Achievement Award from the Association for Psychological Science and awards for Valuable Service and Research Contributions from the Autism Society of America. Her books include the coauthored
Early Start Denver Model for Young Children with Autism
,
An Early Start for Your Child with Autism
and
A Parent's Guide to Asperger Syndrome and High-Functioning Autism.