Dialectical Behavior Therapy in Clinical Practice
Second Edition
Applications across Disorders and Settings
Hardcover
Paperback
e-book
print + e-book
Hardcover
December 4, 2020
ISBN 9781462544622
Price: $59.00
446 Pages
Size: 7" x 10"
order
Paperback
February 17, 2023
ISBN 9781462552641
Price: $45.00
446 Pages
Size: 7" x 10"
order
e-book
November 10, 2020
Price: $45.00
446 Pages
order
print + e-book
Price: $90.00 $54.00
446 Pages
order
Check out a special package offer including this title!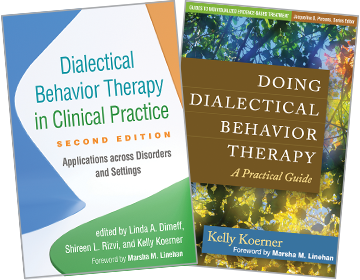 ---
Sign up for
emails
on upcoming titles on Dialectical Behavior Therapy (with special discounts)!
---
T

his influential work has now been substantially revised with over 60% new material reflecting over a dozen years of research and clinical advances.

Leading experts describe innovative ways to use dialectical behavior therapy (DBT) in a wide range of real-world clinical and community settings. The volume provides wise guidance on setting up, running, and evaluating a comprehensive DBT program. It also presents adaptations designed to meet the needs of particular client populations as time- and cost-effectively as possible. Vivid case examples illustrate diverse applications of DBT for helping adults, adolescents, and children reduce suicidal and self-harming behavior; overcome complex, multiple challenges; and build a life worth living.

New to This Edition
Presents current best practices for making DBT more efficient and accessible while maximizing program fidelity.
Chapters on additional populations, including persons with posttraumatic stress disorder and preadolescent children.
Chapters on additional settings, including milieu-based programs, university counseling centers, and middle and high schools.
Chapters on pharmacotherapy, promoting employment and self-sufficiency, training and supervision, and DBT beyond Stage 1.
See also
Doing Dialectical Behavior Therapy: A Practical Guide
, by Kelly Koerner, which demonstrates DBT techniques in detail.