Bestseller
More than 40,000 in print!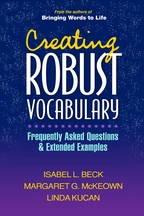 Create flyer
Creating Robust Vocabulary
Frequently Asked Questions and Extended Examples
Hardcover
Paperback
e-book
print + e-book
Hardcover
April 27, 2008
ISBN 9781593857547
Price: $48.00
186 Pages
Size: 7" x 10"
order
Paperback
April 28, 2008
ISBN 9781593857530
Price: $32.00
186 Pages
Size: 7" x 10"
order
---
B

ringing Words to Life
has enlivened the classrooms of hundreds of thousands of teachers. Responding to readers' success stories, practical questions, and requests for extended examples, this ideal volume builds on the groundbreaking work of
Bringing Words to Life
. The authors present additional tools, tips, and detailed explanations of such questions as which words to teach, when and how to teach them, and how to adapt instruction for English language learners. They provide specific instructional sequences, including assessments, for grades K-2, 3-5, 6-8, and 9-12, as well as interactive lesson planning resources. Invaluable appendices feature engaging classroom activities and a comprehensive list of children's books and stories with suggested vocabulary for study.
See also the authors'
Bringing Words to Life, Second Edition: Robust Vocabulary Instruction
, the authoritative guide to research-based vocabulary instruction, as well as
Making Sense of Phonics, Second Edition: The Hows and Whys
, by Isabel L. Beck and Mark E. Beck, an invaluable resource for K-3.