Attachment Theory Applied
Fostering Personal Growth through Healthy Relationships
Hardcover
e-book
print + e-book
Hardcover
June 19, 2023
ISBN 9781462552337
Price: $60.00
374 Pages
Size: 7" x 10"
order
e-book
June 20, 2023
Price: $60.00
374 Pages
order
print + e-book
Price: $120.00 $72.00
374 Pages
order
Check out a special package offer including this title!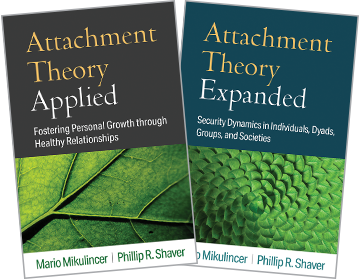 ---
I

n this compelling book, prominent investigators Mario Mikulincer and Phillip R. Shaver review the state of the science of attachment-based interventions in psychotherapy and beyond.

They critically evaluate a range of programs that aim to strengthen parent–child, couple, and therapist–client relationships. The theoretical and empirical underpinnings of each intervention are examined, as are specific techniques used to enhance felt security and foster personal growth. The book also looks at evidence-based interventions outside the mental health domain, including programs that target teacher–student relationships and academic performance. Looking to the future, the authors discuss emerging applications of attachment theory in medicine and health care, management and organizational behavior, and group and intergroup processes.

See also the related work from Mikulincer and Shaver,

Attachment Theory Expanded: Security Dynamics in Individuals, Dyads, Groups, and Societies

.