More than 50,000 in print!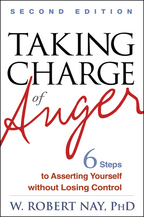 Create flyer
Taking Charge of Anger
Second Edition
Six Steps to Asserting Yourself without Losing Control
Hardcover
Paperback
e-book
print + e-book
Hardcover
March 5, 2012
ISBN 9781462503803
Price: $57.00
289 Pages
Size: 6" x 9"
order
Paperback
March 6, 2012
ISBN 9781462502424
Price: $16.95
289 Pages
Size: 6" x 9"
order
---
T
his straight-talking book—grounded in over 25 years of experience—has already helped many tens of thousands of readers understand and manage destructive anger in all its forms. Anger expert Dr. Robert Nay guides you to:  
Figure out which of the five "faces of anger" are a problem for you, from passive–aggression to all-out rage.
Recognize the early warning signs of anger in your physical sensations and thoughts.
Master cooling-off strategies that work in the heat of the moment.
Identify and change unrealistic expectations you have for yourself and other people.
Communicate effectively when differences arise.
Practice your new skills in everyday life—until they become second nature.
The second edition includes a new chapter on forgiveness, plus updated examples and resources. If anger is getting in the way of your goals—or disrupting the relationships most precious to you—the time to make changes is now.
See also Dr. Nay's
Anger Management Workbook: Use the STOP Method to Replace Destructive Responses with Constructive Behavior
, which helps you build core anger management skills using interactive exercises, and
Overcoming Anger in Your Relationship: How to Break the Cycle of Arguments, Put-Downs, and Stony Silences
.