More than 55,000 in print!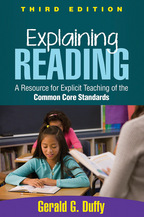 Create flyer
Explaining Reading
Third Edition
A Resource for Explicit Teaching of the Common Core Standards
Hardcover
Paperback
e-book
print + e-book
Hardcover
May 1, 2014
ISBN 9781462515820
Price: $53.00
258 Pages
Size: 6" x 9"
order
Paperback
May 13, 2014
ISBN 9781462515561
Price: $35.00
258 Pages
Size: 6" x 9"
order
---
T
his trusted teacher resource and widely adopted text presents effective ways to demystify essential reading skills and strategies for K–8 students who are struggling. It has been fully revised to focus on the Common Core State Standards (CCSS) for English language arts. Following a concise introduction to the CCSS and explicit teaching, 30 engaging examples show how to be explicit when teaching each Literature, Informational Text, and Foundational Skills standard. Grounded in authentic reading tasks that teachers can adapt for their classrooms, the examples guide teachers to differentiate instruction, model and scaffold learning, assess student skills, and align reading instruction with Common Core writing standards.
New to This Edition
Significantly revised and restructured with a CCSS focus.
The teaching examples are all new or revised.
Provides practical ways to develop "close reading" of text.
Incorporates recent research on authentic tasks and adaptive teaching