Bestselling Clinical Guide and Text
More than 45,000 in print!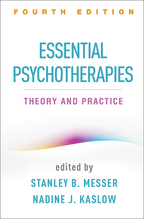 Create flyer
Essential Psychotherapies
Fourth Edition
Theory and Practice
Hardcover
Paperback
e-book
print + e-book
Hardcover
November 27, 2019
ISBN 9781462540945
Price: $83.00
500 Pages
Size: 7" x 10"
order
Paperback
November 27, 2019
ISBN 9781462540846
Price: $55.00
500 Pages
Size: 7" x 10"
order
---
A
cclaimed for its clear writing and stellar contributors, this authoritative text is now in a revised and updated fourth edition. The book explains the history, assessment approach, techniques, and research base of each of the 12 most important psychotherapies practiced today, along with its foundational ideas about personality and psychological health and dysfunction. The consistent chapter format facilitates comparison among the various approaches. Every chapter includes engaging clinical vignettes and an extended case example that bring key concepts to life, as well as suggested resources for further learning.
New to This Edition
Incorporates important developments in clinical practice and research.
Entirely new chapters on CBT, third-wave CBT, couple therapies, and interpersonal and brief psychodynamic therapies; all other chapters fully updated.
Increased attention to multiple dimensions of diversity, the evidence-based practice movement, psychotherapy integration, and applications to physical health care.