Dialectical Behavior Therapy for Binge Eating and Bulimia
Hardcover
Paperback
e-book
print + e-book
Hardcover
May 20, 2009
ISBN 9781606232651
Price: $82.00
244 Pages
Size: 7" x 10"
order
Paperback
February 3, 2017
ISBN 9781462530373
Price: $32.00
244 Pages
Size: 7" x 10"
order
Check out a special package offer including this title!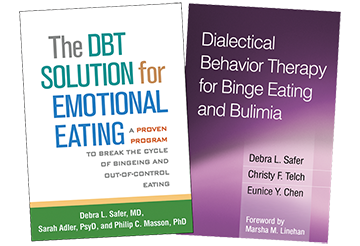 ---
Sign up for
emails
on upcoming titles on Dialectical Behavior Therapy (with special discounts)!
---
The
reproducible materials
can be downloaded and printed in PDF format.
---
T
his groundbreaking book gives clinicians a new set of tools for helping people overcome binge-eating disorder and bulimia. It presents an adaptation of dialectical behavior therapy (DBT) developed expressly for this population. The treatment is unique in approaching disordered eating as a problem of emotional dysregulation. Featuring vivid case examples and 32
reproducible
handouts and forms, the book shows how to put an end to binge eating and purging by teaching clients more adaptive ways to manage painful emotions. Step-by-step guidelines are provided for implementing DBT skills training in mindfulness, emotion regulation, and distress tolerance, including a specially tailored skill, mindful eating. Purchasers get access to a Web page where they can download and print the reproducible handouts and forms in a convenient 8½" x 11" size.
See also the related self-help guide,
The DBT Solution for Emotional Eating
, by Debra L. Safer, Sarah Adler, and Philip C. Masson, ideal for client recommendation.