Stephen Rollnick

Stephen Rollnick, PhD, is Honorary Distinguished Professor in the School of Medicine at Cardiff University, Wales, United Kingdom. He is cofounder of motivational interviewing, with a career in clinical psychology and academia that focused on how to improve conversations about change, and helped to create the Motivational Interviewing Network of Trainers (http://motivationalinterviewing.org). He has worked in diverse fields, with special interests in mental health and long-term health conditions such as diabetes, heart disease, and HIV/AIDS. Dr. Rollnick has published widely in scientific journals and has written many books on helping people to change behavior. He is coauthor (with William R. Miller) of four editions of the classic work Motivational Interviewing. He has traveled worldwide to train practitioners in many settings and cultures, and he now works as a trainer and consultant in health care and sports. His website is www.stephenrollnick.com.

---
Read a Q & A
with featured author, Stephen Rollnick!
---
Listen to
an interview
with Stephen Rollnick.
---
All titles by Stephen Rollnick: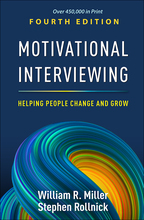 Motivational Interviewing: Fourth Edition: Helping People Change and Grow

William R. Miller and Stephen Rollnick