Karen S. Ingersoll

Karen S. Ingersoll, PhD, is Associate Professor of Psychiatry and Neurobehavioral Sciences at the University of Virginia School of Medicine. A clinical psychologist, she has conducted psychotherapeutic, psychoeducational, and support groups targeting intimate partner violence, smoking cessation, relapse prevention for addictive behaviors, HIV treatment adherence, and women's health. Dr. Ingersoll is a corecipient of the Charles C. Shepard Science Award from the Centers for Disease Control and Prevention, for a study that reduced the risk of alcohol-exposed pregnancies using an MI intervention. She is a MINT member whose research tests MI as a foundational approach to improve health for people with health and addiction concerns.


---
All titles by Karen S. Ingersoll: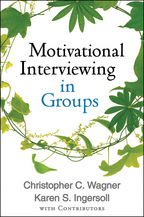 Motivational Interviewing in Groups
Christopher C. Wagner, Karen S. Ingersoll, and Contributors
Hardcover
November 15, 2012
$58.00
e-Book
November 28, 2012
$58.00
Print +

e-Book


Save 45%!
$116.00
$63.80