Judith A. Cohen

Judith A. Cohen, MD, a board-certified child and adolescent psychiatrist, is Medical Director of the Center for Traumatic Stress in Children and Adolescents at Allegheny General Hospital in Pittsburgh, Pennsylvania, and Professor of Psychiatry at Drexel University College of Medicine. Since 1983, Dr. Cohen has conducted research on the assessment and treatment of traumatized children. With Anthony P. Mannarino and Esther Deblinger, she has developed and tested TF-CBT for children and their nonoffending parents. She has served on the boards of directors of the American Professional Society on the Abuse of Children (APSAC) and the International Society for Traumatic Stress Studies (ISTSS), and is a recipient of the Sarah Haley Memorial Award for Clinical Excellence from ISTSS, the Outstanding Professional Award from APSAC, and the Rieger Award for Scientific Achievement from the American Academy of Child and Adolescent Psychiatry (AACAP). She is coauthor of the treatment guidelines for treating posttraumatic stress disorder (PTSD) published by ISTSS and principal author of the practice parameters for treating PTSD in children and adolescents published by AACAP. Dr. Cohen consults on the treatment of childhood traumatic grief to Sesame Workshop and the Tragedy Assistance Program for Survivors. With Anthony P. Mannarino and Esther Deblinger, Dr. Cohen is coauthor of Treating Trauma and Traumatic Grief in Children and Adolescents, Second Edition, and coeditor of Trauma-Focused CBT for Children and Adolescents: Treatment Applications.


---
All titles by Judith A. Cohen: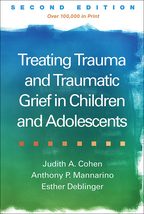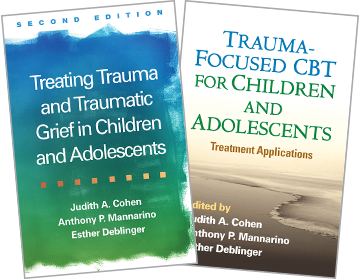 Order both items for $62.95, instead of $84.00 if bought separately!